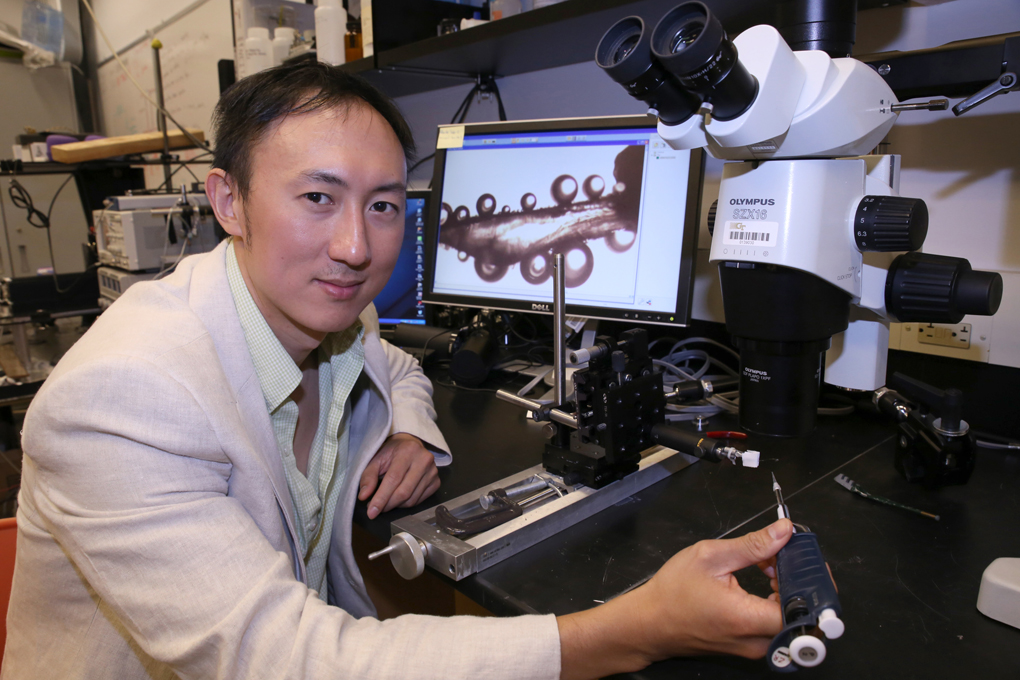 Dr. David L. Hu, Associate Professor of Mechanical Engineering and Biology, Adjunct Associate Professor of Physics  (photo by Candler Hobbs)
The George W. Woodruff School of Mechanical Engineering
e-mail:  hu@me.gatech.edu        Phone: 404 894 0573      Skype: doctorhu123
Office: LOVE 124.    Lab: LOVE 224
Mailing address:
Georgia Institute of Technology
School of Mechanical Engineering
ATTN: Dr. David Hu
801 Ferst Drive, RM 2210
Atlanta, Ga. 30332-0405
Biography
Dr. David Hu is a fluid dynamicist with expertise in the mechanics of interfaces between fluids such as air and water.  He is a leading researcher in the biomechanics of animal locomotion.  The study of flying, swimming and running dates back hundreds of years, and has since been shown to be an enduring and rich subject, linking areas as diverse as mechanical engineering, mathematics and neuroscience. Dr. Hu's work in this area has the potential to impact robotics research.  Before robots can interact with humans, aid in minimally-invasive surgery, perform interplanetary exploration or lead search-and-rescue operations, we will need a fundamental physical understanding of how related tasks are accomplished in their biological counterparts.
 Dr. Hu's work in these areas has generated broad interest across the fields of engineering, biology and robotics, resulting in over 20 publications, including several in high-impact interdisciplinary journals such as Nature and Proceedings of the National Academy of Sciences as well as popular journals such as Physics Today and American Scientist.  Dr. Hu has won the NSF CAREER award, Lockheed Inspirational Young Faculty award, and best paper awards from SAIC, Sigma Xi, and ASME.
Over the years, Dr. Hu's research has also played a role in educating the public in science and engineering.  He has been an invited guest on numerous television and radio shows to discuss his research, including Good Morning America (2010), National Public Radio (2009-2010), The Weather Channel (2011), and Discovery Channel (2011).  His ant research was featured on the cover of the Washington Post in 2011.  His work has also been featured in The Economist, The New York Times, National Geographic, Popular Science and Discover magazine.  Most recently, his laboratory appeared on 3D TV as part of a nature documentary by 3DigitalVision, "Fire ants: the invincible army," available on Netflix.